| | | |
| --- | --- | --- |
| | | |
| | | |
| | | |
State Corrections Sergeant Returned to Work after Termination
A Corrections Sergeant employed by the State of Nevada was advised by an inmate of an assault that was planned on another inmate later that day. The Sergeant acknowledged the information but, due to other distractions imposed on him, the planned assault was not reported. A short time later, the the inmate was attacked. He suffered injuries that required hospitalization.
The Sergeant was terminated for the incident. During the arbitration hearing, the Department of Corrections (DOC) acknowledged the Sergeant's stellar past work performance, his dedication to service and his tireless work ethic that lead to his assignment to no less than seven (7) separate jobs, some of which would normally be handled as full time duties by themselves.
At the hearing, NAPSO Executive Director Rick McCann called a series of witnesses who testified that the Sergeant was doing the work of several officers; the Sergeant had not received the proper training for some of those jobs (thus adding to his inability to handle the tasks in the most fluid and efficient manner possible); and even if they had been given the same information from the inmate (who was well known at the facility as lacking credibility), some of the witnesses may not have immediately responded without further inquiry. In addition, an Associate Warden was called to testify as to his review of the case at the pre-disciplinary level and his opinion that the Sergeant should have received discipline in the form of suspension, and not termination.
The Hearing Officer concluded that there was no intentional failure to discharge the Sergeant's duties, as was required to sustain a termination for those charges. Concluding that the best interests of the public were served by reinstating the Sergeant to his employment, the Hearing Officer remanded the case back to DOC to determine what discipline, short of termination, is appropriate.
Congratulations to this NAPSO member for fighting the good fight and vindicating his name and good work record.
Juvenile Probation Officers Returned to Work by Arbitrator
Two County juvenile probation officers were terminated for allegedly abandoning their posts after they were incarcerated for separate incidents. They were unable to report for work for more than five consecutive days which, according to County policy, automatically considered them as having abandoned their posts and they were immediately terminated.
The two cases were consolidated for arbitration. Rick McCann, Executive Director of NAPSO, represented the two officers at the hearing. During the hearing, the County argued that incarceration was not an appropriate form of authorized leave under the labor agreement (such as vacation, sick leave or leave without pay). Accordingly, since it was not an acknowledged form of leave, the officers could not use any form of authorized leave to cover their incarceration time and, therefore, their time away from work was unauthorized. Moreover, the County argued that it maintained a past practice of discharging employees throughout the County for incarceration in excess of five consecutive work days, so it was merely following that practice in these two cases.
In his decision, the arbitrator concluded that incarceration may, indeed, be a form of pursuing "non-employment objectives," which is part of the definition of "vacation" leave as defined in the labor agreement. Just because incarceration is not specifically mentioned in the things you can do while on vacation, doesn't mean you can't define incarceration as a part of vacation leave.
The arbitrator also concluded that there was no valid past practice being observed by the County in these cases because the practice the County has been following for other County employees was never communicated to, nor accepted as a practice by the juvenile probation officers association. In addition, McCann offered the testimony of two juvenile probation officers who had each been incarcerated in the past, yet had been permitted to cover their time with vacation, sick leave or accumulated comp time. This testimony seriously undercut the County's argument that it consistently applied this "past practice" to all County employees.
Concluding that the County arbitrarily applied a rule against allowing leave for incarceration time, the arbitrator sustained the grievances, returned the officers to their positions and awared them back pay and benefits.
Clark County School District Police Settle Arbitration Regarding Unpaid Leave
In 2007, NRS 289.057 was amended to state that a law enforcement officer could not be placed on unpaid leave pending an administrative investigation until all investigations relating to the matter had concluded. In 2011, the same section was amended to state that, "except as otherwise provided in a collective bargaining agreement," the officer could not be placed on unpaid leave until all investigations had concluded.
The Police Officers Association of the Clark County School District (POA) have language in their contract (dating back many years) that allows the School District to place an oficer on unpaid leave (referred to in the contract as "suspension") pending an investigation into alleged misconduct by the officer even while the administrative investigation is pending. Such language is now permissible in view of the 2011 amendment placing emphasis on the collective bargaining language.
For some time, the POA has argued that officers were being placed on unpaid suspension -- not by their Chief or someone in the command structure -- but by members of the School District's legal staff. They asserted that there was no real definition of the circumstances when an officer would be placed on unpaid suspension pending an investigation. As a result, the POA filed a gievance and eventually proceeded to the commencement of arbitration over the issues.
At the beginning of the arbitration hearing, Rick McCann, Executive Director of NAPSO and the POA's representative, as well as the School District's lawyer, met privately to discuss ways to resolve the dispute short of a full hearing. While the arbitrator and court reporter sat patiently in the hearing room for several hours, the parties met . . . met again . . . and met again to finalize language of a Memorandum of Understanding that effectively resolved the dispute.
Now, if an officer is placed on unpaid suspension pending an administrative investigation, only the Chief of Police or a Police Captain may meet with the officers and suspend them. Moreover, there is now definition to the circumstances under which unpaid suspension will be utilized pending the investigation.
Although the present language in the collective bargaining agreement will be addressed in future bargaining sessions, NAPSO, the POA and the School District found common ground to settle this dispute with open dialogue that negated full litigation of the issues.
Congratulations to the POA for fighting the good fight and obtaining a win-win resolution for its members!!
NAPSO Opens Membership to Individuals !!!
The Board of Directors of NAPSO recently decided to open its legal and administrative defense services to qualified individual peace officers who are not members of our affiliated Associations. After countless inquiries made by professionals from several law enforcement agencies, including mostly the Las Vegas Metropolitan Police Department, it was decided to take these steps to offer our superior benefits and services to these hard working men and women.
Historically, NAPSO has represented the membership of entire Associations, and that will continue to be our mission (we currently represent members from 20 public safety Associations, including more than 50 state, county and municipal bureaus and divisions in Nevada). However, for reasons that are none of our business, members of non-affiliated Associations (like Metro PPA) have been sending their messages of interest in NAPSO's legal and administrative plan.
Is NAPSO encouraging members from Metro PPA or other non-affiliated Associations to leave their parent group to join NAPSO? Absolutely not. But, is NAPSO now offering to represent those members for their legal and administrative needs, either in conjunction with, or separate from, the parent groups? Yes. We feel that this is consistent with our mission to help ALL public safety officers throughout Nevada.
The choice is up to the members, as it always is with NAPSO. Click below to review a brochure that outlines the NAPSO Legal & Administrative Plan, as well as the basic representation contract and a 1-page sheet that gives us your contact and billing information. Take a look at these documents and call NAPSO's Executive Director, Rick McCann for more information and to obtain the sign-up documents. The dues are $40 per month, paid quarterly, and part of that money is set aside to cover any expenses of arbitration or litigation that a member may need (in other words, it costs you nothing but your dues to receive our UNCAPPED, UNLIMITED representation).
There is no comparison. Despite the desperate comments from others with the Las Vegas Metro PPA, NAPSO's plan is superior to them all. The choice is yours, and now we've made our plan available to more people than ever before!!
Click the following to see the brochure and other sign-up documents:
Download:

Representation Agreement.Legal Defense Only.No Costs.pdf ,

Member Enrollment Data.pdf ,

NAPSO brochure.Legal & Admin. Plan.pdf
| | | |
| --- | --- | --- |
| | Blog Updates | |
| | | |
| | | |
NAPSO Representation Plan
NAPSO's Representation -- the Best in the Business !!
The Nevada Association of Public Safety Officers (NAPSO) is the largest affiliation of law enforcement Unions in Nevada. NAPSO's background and experience means that we are able to provide statewide representation that law enforcement professionals deserve in the following areas (for more details, click "Legal Defense Plan" above):
Disciplinary Representation - NAPSO's staff and its plan counsel vigorously defend member peace officers and protect their rights in disciplinary proceedings. NAPSO appears with member officers at every level of interview and hearing. Our track record in this area is among the best in the state of Nevada. NAPSO takes seriously the need to protect our members and their families when their jobs and their careers are threatened.
Contract Negotiations - NAPSO's representatives have a track record of successful collective bargaining negotiations throughout the state, and they work tirelessly to ensure that our members are the leaders in compensation and benefits in the law enforcement industry.
Litigation - When the need arises, NAPSO and its plan counsel may aggressively represent their member officers and associations in litigation matters involving the defense of on-duty criminal charges and civil lawsuits, FLSA, Injunctions to enforce MOU's and the Peace Officer Bill of Rights, and other actions deemed necessary to protect the best interests of our members.
Political Action - NAPSO and its affiliates, the National Coalition of Public Safety Officers (NCPSO) and the Communications Workers of America (CWA), AFL-CIO Local 9110, are the most powerful voice in Nevada law enforcement. From Carson City to Washington, D.C., law enforcement concerns are being heard by legislators and NAPSO is leading those efforts.
Organizing - Through its association with NCPSO and CWA Local 9110, AFL-CIO, NAPSO may elect to assist new law enforcement groups around the state to organize themselves, obtain recognition by their employers and commence the process of representation, bargaining and obtaining a political voice in their own affairs.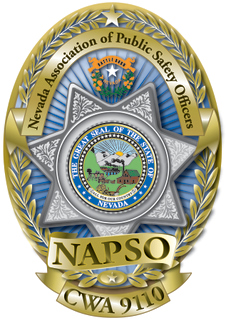 NAPSO's
Vision
To implement and preserve a sound organizational philosophy that will be used to secure fair and equitable compensation, benefits, policies and procedures for the protection of our present and future members, and to promote labor, benevolent, educational, charitable, civic, patriotic, and fraternal activities among our membership.
To preserve and strengthen camaraderie among our law enforcement/peace officer members, including police officers, deputies, corrections officers, state and federal law enforcement officers, special district police, probation officers and parole officers, and to improve wages and hours of work, increase job security, improve working and living conditions, and defend the rights and liberties of our members.
N

Never discriminate among members
A

Always act in good faith
S
Support all interests of law enforcement
O

Obey all By-Laws and the CWA Constitution